Hey there, have you heard about Blue Light skincare?
Blue light has been a hot topic recently, particularly as we become more reliant on our electronic devices. But what exactly is it, and how can we prevent it from damaging our skin? Let's dive into the topic and explore ways to keep our skin healthy and protected.
So, what is Blue Light skincare?
---
The spectrum of light from the sun consists of UV, Visible, and Infrared Light. 50% of this is Visible Light. These are the only wavelengths of light that are detectable by the human eye, as UV and Infrared Light are invisible.
The visible spectrum's blue-to-violet band has one of the shortest and highest-energy wavelengths—approximately 400 to 500 nanometers. It is known as Blue Light, High Energy Visible Light, or HEV or HEVL.
It makes the sky blue and is everywhere—mainly from sunlight, but increasingly from artificial sources. These include device screens like computer monitors or laptops, tablets, smartphone screens, and LED and fluorescent lighting.
While HEV is crucial in regulating our circadian rhythm (sleep-wake cycle) and boosting cognitive functions, excessive exposure can negatively affect our skin.
The proliferation of devices and energy-efficient lighting increases our exposure to Blue Light, including at night. Recent studies indicate the time spent looking at digital screens can be up to 8–12 hours daily, almost daily!
This overexposure can lead to eye strain, headaches, and physical and mental fatigue. It can even cause macular degeneration (permanent eye damage). Besides limiting screen time, devices increasingly offer settings to reduce or disable their Blue Light emissions (night mode or nightshift) and track usage to help warn us how long we've been staring at them. You can even attach filters to screens or wear HEV protective glasses.
How does Blue Light affect our skin?
---
Research suggests HEV or Blue Light can contribute to premature skin aging like UVA, resulting in wrinkles, fine lines, and a loss of skin elasticity. It also deeply penetrates your skin, where its high energy generates reactive oxygen species (ROS) and free radicals, leading to oxidative stress. This stress may lead to DNA damage and the degradation of collagen proteins, hyaluronic acid levels, and elastin. All of these are vital in preserving youthful-looking skin. So it's essential to protect your eyes and your skin with Blue Light skincare.
One famous scientist who has spoken about the effects of blue light on skin is Dr. Joshua Zeichner, Director of Cosmetic and Clinical Research in Dermatology at Mount Sinai Hospital in New York City. He said: –
"Blue light can penetrate deep into the skin and cause damage to collagen and elastin, leading to premature aging and wrinkles."
Here's a rundown of the main issues associated with Blue Light exposure:-
Hyperpigmentation: Studies have shown that Blue Light exposure can contribute to hyperpigmentation, dark spots, and an uneven skin tone. This happens because it can stimulate melanin production, the pigment responsible for skin colour.
Inflammation: For some individuals, Blue Light exposure can cause skin inflammation, redness, and irritation, particularly in those with sensitive or reactive skin types.
Disruption of the skin barrier: Blue Light can negatively affect our skin's barrier function, making it more susceptible to environmental stressors and potential irritants.
How can we protect our skin using Blue Light skincare?
---
Now that we know the potential harm that Blue Light causes let's discuss some practical steps to minimize its impact on our skin.
Incorporate Blue Light skincare: Look for effective ingredients that protect against it. These products often contain melanin and antioxidants, such as vitamin C and niacinamide, and other ingredients that shield the skin from Blue Light, like filters that either absorb, neutralize, or reflect it. By including these products in your daily skincare routine, you can help combat the effects of Blue Light exposure.
Wear broad-spectrum sunscreen: While sunscreen protects against UVA and UVB rays, some products offer protection against Blue Light. Choose a sunscreen with ingredients that block a portion of the Blue Light spectrum. Apply sunscreen daily, even indoors, as Blue Light and UVA can penetrate through windows.
Limit screen time: reducing the time you spend in front of screens is one of the most effective ways to limit exposure to it. Take breaks from your devices, and try to establish a screen-free routine before bedtime. This will help minimize the impact of Blue Light on your sleep patterns and skin.
Use Blue Light-blocking screen protectors: Many screen protectors on the market can filter out emissions to it from your devices. Investing in these screen protectors can reduce exposure to Blue Light without sacrificing screen time.
Adjust the colour temperature of your devices: Many electronic devices have built-in settings that allow you to adjust the colour temperature, reducing the amount of Blue Light emitted. Switching to "night mode" or "warm colour" settings can significantly minimize Blue Light exposure, ultimately helping to protect your skin and support better sleep patterns.
Melatonin, one of the best ingredients in Blue Light skincare
---
Melatonin is an excellent ingredient for many reasons to combat its harmful effects. At skinara, we use melatonin in a range of skincare products to protect against the results of its rays, including in our serums, moisturizers, and eye creams.
The science behind melatonin as a Blue Light skincare ingredient.
---
Let's delve into the latest scientific research on melatonin and its effectiveness as a blue light skincare ingredient, including its ability to counteract oxidative stress and improve skin health. Topical melatonin can help reduce the harmful effects of blue light radiation on the skin. Melatonin is a powerful antioxidant that can neutralize free radicals and protect the skin from oxidative stress caused by blue light exposure. It promotes collagen production and improves skin texture and elasticity.
Antioxidant Protection: Melatonin is a powerful antioxidant that can help neutralize free radicals caused by environmental stressors, including blue light radiation. By reducing the oxidative stress on skin cells, melatonin can help prevent damage that leads to premature aging, fine lines, and wrinkles.
Skin Hydration: Melatonin has been shown to help promote skin hydration, which can improve the overall health and appearance of the skin. It does this by helping retain moisture in the skin, making it appear plumper and more radiant.
Reduced Inflammation: Melatonin has anti-inflammatory properties that can help reduce redness and inflammation in the skin. It mainly benefits people with sensitive skin or conditions like acne, rosacea, or eczema.
Improved Sleep: Melatonin is vital in regulating the body's sleep-wake cycle. It has a positive impact on overall health and well-being, including the health of your skin. Using melatonin in skin care products can help regulate your body's natural sleep rhythms, leading to better quality sleep.
Other Blue Light skincare hero ingredients
---
At skinara, we are researching all the best blue light skincare heroes effective in reducing the effects of its damage to the skin, which are skin microbiome friendly.
Antioxidants like vitamin C, E, or ferulic acid can help neutralize free radicals caused by blue light radiation, which can lead to skin damage and premature aging.
Niacinamide, also known as vitamin B3, has been shown to help strengthen the skin barrier and reduce inflammation, which can help protect against the damaging effects of blue light.
Bakuchiol is a natural, plant-based alternative to retinol that has been shown to even skin texture and minimizes fine lines and wrinkles. It can also help protect against the damaging effects of its radiation.
Hyaluronic acid is a brilliant hydrating ingredient that can improve skin hydration and plumpness, which can help counteract the drying effects of blue light radiation.
High UVA and UVB broad-spectrum sunscreen protection is helpful against both UV and blue light radiation and incorporates skincare products with blue light-neutralizing ingredients.
AgeLess 24/7® is formulated with blue light-neutralizing organic ingredients and potent, natural antioxidants to repair and protect your skin FIND OUT MORE>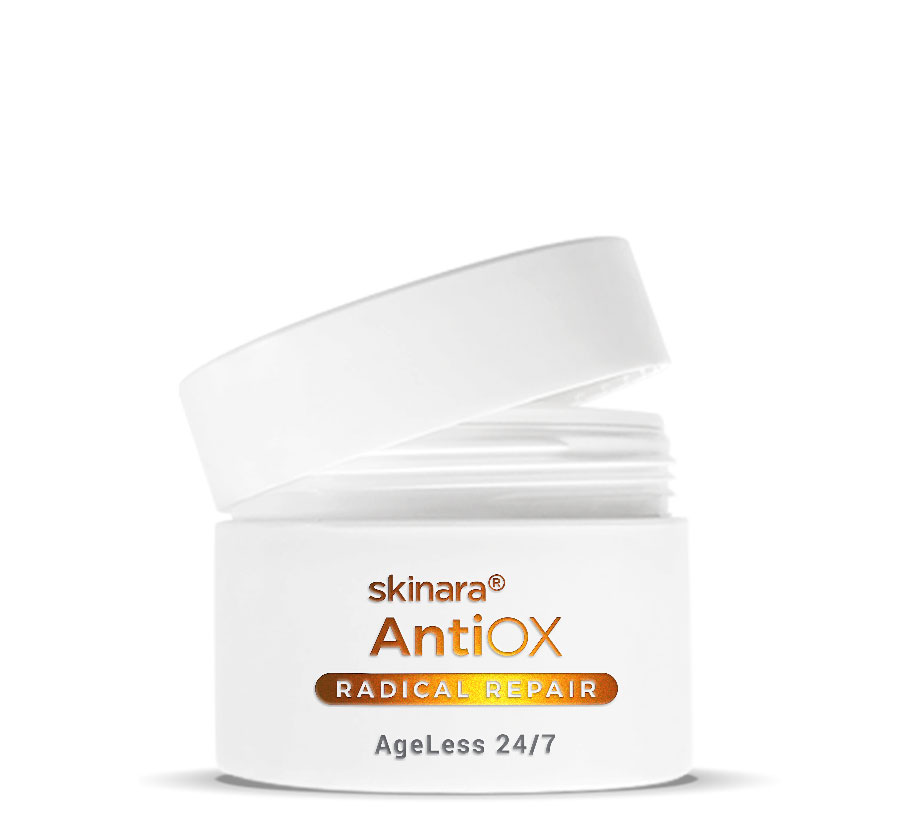 Sources:
"The impact of blue light and digital screens on the skin" by Jyoti Kumari MBBS, MD, Kinnor Das MD, Mahsa Babaei MD, Ghasem Rahmatpour Rokni MD, Mohamad Goldust MD. First published: 03 January 2023