Is Broad Spectrum enough? Shall I use UVA or UVB sunscreens? Boots or PA rating? We wrote this guide to help you understand how to read sunscreen labels and choose the best sunscreen for the face.
The great importance of sunscreen for the face
Facial skin is the thinnest and most vulnerable to sun damage. Facial skin is thinner than anywhere else on your body. Additionally, the layer of fat beneath the skin is skinnier, too. As a result, sun damage, spots, and wrinkles on the face and neck show us quicker and are more apparent.
High UVA protection is essential for a facial sunscreen
Excessive exposure to the sun's ultraviolet (UV) radiation can lead to many skin issues, including sunburn, skin allergies (currently an epidemic), premature aging, and skin cancer. However, for facial skin, high UVA protection is essential. Thus you should know how to read sunscreen labels and buy the best sunscreen for the face with a UVA protection factor listed on the label.
What's the difference between UVA and UVB?
UVA stands for Ultraviolet A, and UVB stands for Ultraviolet B sun radiation. They are the two primary types of ultraviolet radiation that reach our skin daily. While most of us know SPF stands for Sun Protection Factor, fewer people know it's only a measure of protection against UVB rays. Understanding UVA protection can be slightly more complex. Here you can discover all the facts about labels for UVA UVB sunscreens.
UVA Rays: Year-round Skin Aging
UVA rays hit our skin throughout the year and can penetrate clouds and glass, such as widows, constantly threatening our skin. So as you can imagine, UVA rays also deeply penetrate the skin, resulting in premature aging, wrinkles, sun spots, dark spots, hyperpigmentation, skin allergies, and long-term irreversible damage to the skin's DNA. UVA sun rays also contribute to some types of skin cancer. There are no immediate visible effects to help you tell if your skin has reached the maximum it can tolerate before skin DNA damage starts. Think of it as UVAging.
UVB Rays: The Sunburn Culprits
On the other hand, UVB rays are responsible for sunburn, skin reddening, and skin cancer. However, unlike UVA rays, UVB rays do not penetrate the skin as deeply as UVA and don't go through glass. UVB is also less prevalent during winter or in areas with less direct sunlight than during summer. Think of it as UVBurning, and buying sunscreen with an SPF30 or above is a must.
Given the harmful effects of both UVA and UVB rays, it is crucial to select the best anti aging sunscreen for the face that provides broad-spectrum protection, and that tells you the UVA protection factor, not just SPF. Unfortunately, most brands don't include such information on their sunscreen labels. At Skinara, we are proud to say we are the first sunscreen brand in the world to list our UVA protection factor rating on our labels.
Understanding the Boots Star Rating for UVA sunscreen
One method to evaluate a sunscreen's ability to shield our skin from UVA rays is to look for the Boots Star Rating. Developed in the United Kingdom by health and beauty retailer Boots, their rating system helps consumers make better and more appropriate choices about sun protection by providing valuable information about a sunscreen's UVA protection capabilities, not just SPF. In this in-depth exploration, we will examine the Boots Star Rating, its importance, how it works, and how to use it to choose the best facial sunscreen.
The Boots Star Rating focuses on the ratio of UVA protection relative to UVB protection, giving you a clear indication of the sunscreen's ability to block UVA rays. The rating ranges from 1 to 5 stars, with 1 star indicating minimal UVA protection and 5 stars representing the highest level of UVA protection. The higher the Boots Star Rating, the better the UVA protection. The Boots Star Rating is not new. It's been around since 1992 and has established a solid international reputation as a reliable testing method for anti aging UVA sunscreen for the face.
3 Stars = 0,60 – 0,79
4 Stars = 0,80 – 0,89
5 Stars = 0,9 or more
5 stars are what you need to have safe and high UVA protection in a daily sunscreen for the face. The ultimate ratio is at least 1:1 UVB to UVA protection, but achieving it is challenging. Typically, the more you increase the UVB protection, the less UVA protection you have, as it directly affects the UVA protection.
What is the UVA in a circle symbol?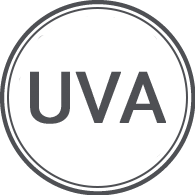 You may see a circle with the letters' UVA' on some sunscreens to indicate that a sunscreen meets the European Sunscreen Standard.
Unfortunately, the ratio required for a sunscreen to be a 'Broad Spectrum' using the European Standard is merely 3:1 SPF (UVB) to UVA. So a regular broad-spectrum sunscreen with an SPF30 could only have a UVA Protection Factor of 10.
Sunscreen standards for UVA protection vary wildly
We wrote another post exclusively about the European sunscreen standards being higher than those in the US and Canada. On top of this fact, most sunscreens, especially those in the US, are not required to have any minimum UVA protection factor.
AgeScreen anti aging sunscreen exceeds European broad-spectrum UVA standards
We test AgeScreen anti aging sunscreen based on European sunscreen testing standards. We designed AgeScreen in New Zealand and Australia, one of Earth's highest ultraviolet radiation zones. If it can help protect your facial skin, it can do it anywhere. AgeScreen is your All-In-One anti aging sunscreen for the face. Beyond broad spectrum sunscreen standards, we independently lab-tested AgeScreen using the Boots Star Rating testing methods to ensure you have the highest UVA protection. AgeScreen provides up to 300% more UVA protection than other Broad Spectrum sunscreens that have passed the European standard.
What are other ways to measure UVA sunscreen ratings?
The Boots Star Rating is popular in the UK and Europe for providing reassurance of UVA and UVB protection for sunscreen for the face. Another method is PPD which stands for Persistent Pigment Darkening. This method is popular in Asia, particularly in Japan and Korea.
The PA Rating System uses the Persistent Pigment Darkening (PPD) method. The PPD method measures the amount of UVA radiation required to cause a visible darkening or tanning of the skin. The higher the PPD rating, the better the sunscreen's UVA protection.
The PA rating system indicates the level of UVA protection provided by sunscreen and ranges from PA+ to PA++++. Each plus sign corresponds to a specific range of UVA protection.
PA+ indicates virtually no UVA protection.
PA++ indicates low UVA protection.
PA+++ indicates moderate UVA protection.
PA++++ indicates high UVA protection.
 
Comparing Boots Star Rating and PPD
While the Boots Star Rating and the PPD UVA Persistent Pigment Darkening methods are great for measuring UVA sunscreen protection, they differ in their approaches. The Boots Star Rating system considers the UVA and UVB protection ratio, while the PPD method only measures the UVA radiation required to cause skin darkening. Regarding their usefulness, both ways help determine the UVA protection in sunscreens.
Takeaway: The best anti aging sunscreen for the face follows European Sunscreen Standards but exceeds the minimum for UVA Protection Factor.
It would be best to choose a well-balanced sunscreen with at least an equally high protection factor ratio of 1:1 for UVA and UVB, especially for a daily sunscreen for the face. We recommend a minimum UVA 30 and UVB 30 (SPF30) Broad Spectrum sunscreen. We also recommend sunscreen for the face with clearly written testing standards on the labels, including the value of your UVA-PF or UVA Protection Factor.
Sunscreen for the face should be a daily part of your skincare regimen. But remember that no SPF sunscreen is waterproof, so reapplication is vital. And remember to be SunSmart by avoiding peak UVA times of the day, wearing UV protective clothing and sunglasses, and staying in the shade during spring and summer, in particular.
The Team @ skinara is here to help. Please feel free to ask us questions here or via our social channels.