Microneedling as a treatment for hair loss or thinning:
---
Just like the skin on our face, the scalp also loses collagen as we age, resulting in slower hair growth and dormant hair follicles. When collagen production drops off (usually around 30 years of age) it leaves hair follicles susceptible to weakening. Weaker hair follicles don't grow long and strong hair. Additionally varies conditions can lead to reduced blood supply to the scalp which can add to hair thinning and hair loss.
How does it work?
---
Microneedling for hair growth is a dermatological procedure used in clinics or at home to stimulate new hair follicle growth and aid thinning hair reversal. It's also a treatment for dermatologic conditions including androgenetic alopecia and alopecia areata. Microneedling for hair growth involves fine needles being rolled over the scalp to puncture its external layer. These cause micro-injuries to the skin, which trigger a wound-healing response. This process then encourages blood flow and nutrients back to the treated scalp. It promotes new collagen formation, neovascularization (the formation of new blood vessels) and stem cell growth factor production in the treated areas.
Microneedling with or without serum?
---
The use of microneedling for hair growth promotes new hair growth with or without the use of hair growth serum. However, recent research studies show that improved hair regrowth can occur when using microneedling in conjunction with topically applied stem cell growth factors. These are natural signalling proteins that can boost the hair regeneration process. Skinara® Stem Cell Growth Factor Hair Growth Serum incorporates advances in hair follicle science to provide 350+ different stem cell growth stimulants to the scalp.
A skin (or derma) roller delivers these supplementary growth stimulants deep into the scalp. This method of application ensures the penetration of the Serum, enhancing deep follicular stimulation to help spur hair growth.
How we roll
---
Microneedling for hair growth should be done with a larger derma roller or dermapen, since they're able to better infiltrate through existing hair. Dermapen is motorized with needles mounted at one end.
Before using your derma roller or dermapen for the first time and subsequently, make sure you sterilize it. Start with a shorter needle length derma roller 0.2mm-0.5mm (0.007-0.01 inches) twice a week. A few weeks later you can use longer 0.5 to 1.0 mm (0.01-0.03 inch) rollers to promote regeneration of the hair follicles. Wet the hair or use straight after hair washing to create a flat surface. Then start by rolling in one direction using light pressure first to avoid getting hair caught in the roller or pen. Once you feel confident you can roll in the opposite direction too.
Then add a few drops of Skinara® Stem Cell Growth Factors Hair Growth Serum directly to the affected areas. Then use the derma roller again to gently distribute the Serum evenly over the scalp and leave to dry.
Always use a natural shampoo that's scalp microbiome friendly.
Is it for everyone?
---
Avoid microneedling if you have a scalp condition or irritation. If you have a history of acne, eczema, or open wounds, have a condition that slows healing, such as diabetes or are on blood thinners or other medications. Microneedling also isn't recommended for people who are pregnant. Always consult with your healthcare professional before microneedling.
When will I see results?
---
It can take up to nine months for microneedling to reveal its effects. The exact time will vary, although you should see minor changes within three months of treatment and more full effects after six months.
During treatment
---
Your scalp may be more sensitive to the sun during or after treatment. We recommend always wearing sunscreen on the exposed scalp every day. A hat should also help protect your scalp when outdoors.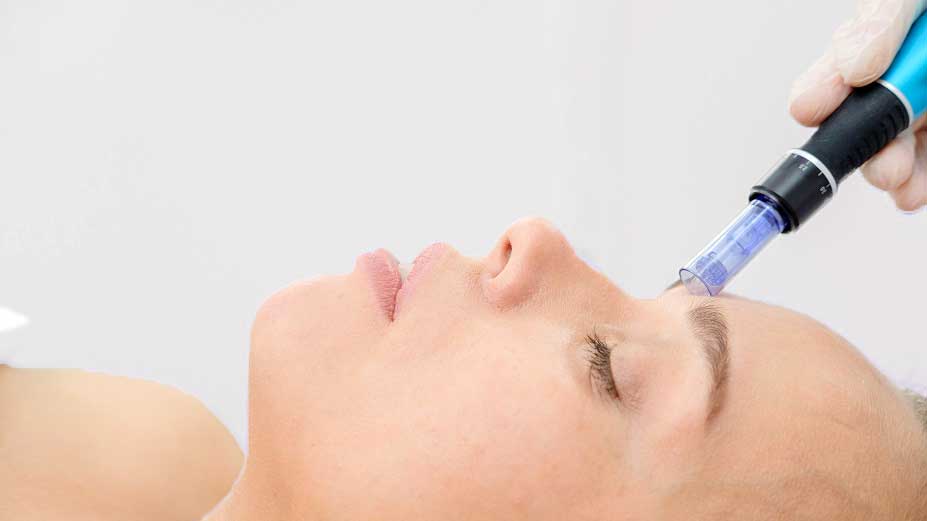 Image of a dermapen.